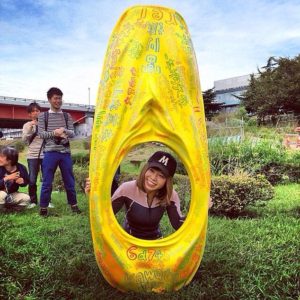 There are several different kinds of boat designs out there. From large ones to small ones... One particular kind of boat is the kayak. A little research shows there are several kinds: recreational, touring, sea kayaks, etc. Recently a Japanese artist called Megumi Igarashi added another one... She made a kayak shaped like her own vagina. Only bigger...
The artist wanted her vagina to travel the world. Unfortunately Japanese authorities didn't agree nor approve. She was arrested and found guilty of obscenity. I guess you can't have everybody rowing around in your privates in Japan. All she did was email the 3D scanner data of her vulva to people who supported her crowd funding project in 2014.
Surfing around on the yellow pages we found most vulvas would be too narrow to make a kayak out of. They would turn into something like a dugout canoe. Although admittedly we also saw a couple you could build a decent size swimming pool out of :)... Now you know...
read more...